UK Apostille Service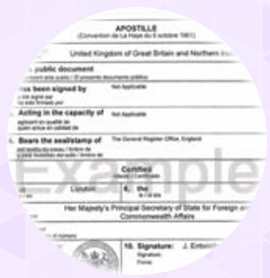 Order an apostille certificate for any UK issued document. Already have a UK issued document or certificate that needs to be apostilled for use abroad? Send us your document or certificate and we will arrange for the legalisation process. An apostille stamp will be added and returned to you anywhere in the world.
The fee for an apostille certificate start from £59.99 plus postage.
Once a document has had an Apostille Certificate attached to it confirming the authenticity of signatures and seals it can be presented to any country which recognises the Apostille. The authority receiving the document should then accept the seals or signatures as true and valid without requesting further evidence or proof.
The certificates provided can be used for any official purpose overseas including work verification, property purchases and getting married abroad.
Alternatively, you can order an apostille certificate by calling our office.